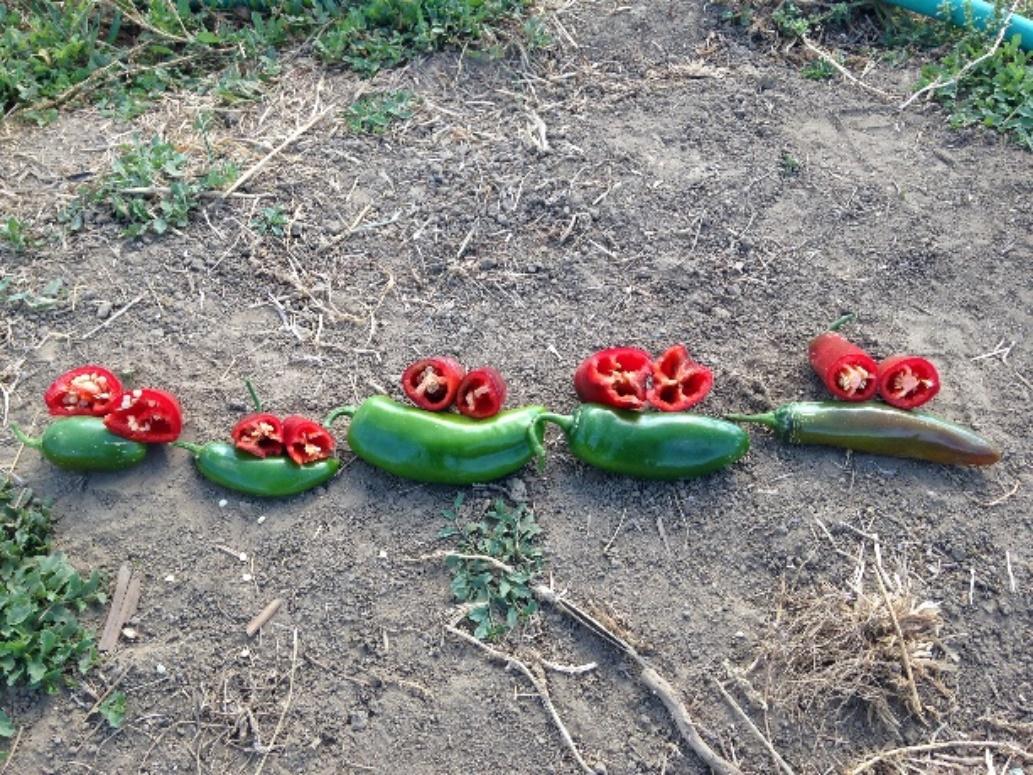 Research adviser: Allen Van Deynze
Team Leader:  Mengyuan Xiao – myxiao@ucdavis.edu
Pepper One-Pager
The Pepper Team has two main breeding projects focusing on jalapeño and bell peppers. The goals for jalapeño peppers are breeding for fruit size and shapes that are preferred for making jalapeño popper dishes. The project goal for bell pepper is breeding for sunscald tolerance, with comparable yield, fruit color and pungency as varieties that are used in California organic farms.

In jalapeño field trials, two lines generated large fruit, with yield comparable to local varieties. For both lines, there is still some variation within the line for fruit size and shape, but it is within a small range.
In bell pepper field trials one line has decreased sunscald due to the lateness of flowering and fruiting. This may be a good late season variety to complement the market, and may benefit organic markets or home gardens. This could also be a good variety for low temperature areas in California.
This project was initiated in 2012 in the Student Farm with current Ph.D. student Jorge Berny, Raoul Adamchak, Ildi Carlisle-Cummins and Anne Bossange, making initial crosses and planting on small trials for population advancement and selection. Students Saarah Kuzay, Nidhi Solanki, and Glenda Li have also been a big part of the breeding efforts. This project demonstrated that students can develop and conduct a breeding project, that the collaboration with the Student Farm is effective and can be expanded to other projects. The Van Deynze lab also has been creating multiple parental populations for jalapeños and for large blocky types joining the student farm efforts. The lab also has significant breeding resources such as doubled haploids, genetic populations and genomic (non-transgenic) resources for pepper breeding to support this project and program (http://sbc.ucdabos.edu). The OREI project is allowing to expand the pepper project in size and goals, as well as the number of students involved.
The United States is the fifth largest producer of green chilies worldwide and is the top importer (Faostat, 2015).
California is the largest producer of bell and chile peppers for fresh market, with a value of $332 and $165 million USD, respectively (USDA-NASS, 2015).
As market for organic of peppers increases, current cultivars bred for these there has been a lack of effort towards developing cultivars that can produce under these specific production systems.
Bell pepper project:
Damage due to sensitivity to sun exposure has been the most important factor reducing quality and marketability on the Student Farm and other farms in sunny California. There has not been much research, much less variety development regarding this issue. There are some cultivars of different pepper types that have paler immature fruit color that withstand sunburn that can be used as a source of variation to develop better bell peppers.
Breeding objectives:
Primary traits: paler greenish/yellowhish immature fruit color, improved canopy to shade the fruits, yield, taste
Secondary traits: different mature colors, fruit shape
Breeding methods: development of segregating populations with crosses of bell pepper cultivars of good fruit quality and high yield under organic conditions to lines and cultivars with pale immature fruit colors.
 
Jalapeño popper project:
Jalapeño peppers are usually consumed as fresh and pickled, but Jalapeño "poppers" as a specialty type are gaining ground in the marketplace. The fruits have to be larger and with more cavity volume. Mainstream cultivars can be highly productive and with large fruits, but do not have large cavities and are certainly not bred for organic production practices.
Breeding objectives:
Primary Traits: sturdy cavity wall, enlarged cavity, moderate and low pungency, yield.
Secondary Traits: improving plant vigor and fruit set
Breeding methods: crossing high yielding good quality Jalapeños with leading varieties of peppers of larger size that have performed well under organic production, with subsequent selections and backcrosses in families and plants within family.